Rosa Rebellion is a platform for creative activism by and for women of color to disrupt unjust systems and design equitable futures. Founded in 2018, as a think tank and do tank, Rosa Rebellion supports creative projects that serve to cultivate, celebrate, and liberate. We are a platform that supports and amplifies creative projects, programs and productions by women of color that serve to tell stories of resistance, resilience and radical change.
VIRGINIA A. CUMBERBATCH
Co-Founder
virginia@rosarebellion.com | @vacumberbatch
Virginia is a co-founder of Rosa Rebellion and drives the curation of projects and development of collaborations for the Rosa Rebellion platform. As a storyteller, racial justice educator and organizer, Virginia's work sits at the intersection of community advocacy and creative activism. With a heart to elevate the voices of women of color whose stories are often siloed or ignored, she co-birthed Rosa Rebellion to create space for the brilliance and thought leadership of women of color in media, policy and community organizing. Beyond Rosa Rebellion, Virginia supports the development of a culture and ethos of equity for organizations through racial justice workshops and education.
She is currently serving as a Global Ambassador Advisor for Lululemon and in 2017 was appointed to the Mayor of Austin's Task Force on Institutional Racism and Systemic Bias. From 2016 - 2020, Virginia served as Director of Community Engagement and Social Equity for The University of Texas at Austin's Division of Diversity and Community Engagement, helping drive the university's vision to become less of an ivory tower, and more of a community anchor addressing issues of access and equity. Given her commitment to disrupt systemic racism and build resources for inclusive practices, she's spoken around the world, including: SXSW, SXSWEDU, TEDX, Q Commons, J.P. Morgan Chase's PowerHer, and the University of Western Australia's Social Impact Conference.
She is the recipient of the 2016 Anti-Defamation League of Austin Social Justice Award, the 2018 Austin 40 Under 40 Award for Civics, Government and Public Affairs, and the Girl Scouts Women of Distinction.
Virginia is passionate about disrupting and agitating and she invites you to join the cause.
She holds a B.A. in history from Williams College and a M.A. in public affairs from the Lyndon B. Johnson School of Public Affairs at The University of Texas at Austin.
MEAGAN T. HARDING
Co-Founder
meagan@rosarebellion.com | @meagan.harding
Meagan is the co-founder of Rosa Rebellion and develops Rosa Rebellion cohorts and curates the community of creative activists and agitators. She is a creative and justice advocate with a passion for racial and gender equity. As a civil rights attorney, Meagan encounters the consequences of systemic inequity frequently and engages in disruptive work to eradicate it.
Meagan has demonstrated her commitment to dismantle systemic oppression and champion equity by co-developing a program designed to encourage and cultivate authentic conversations around difficult topics such as race, politics and community. In this role, she has helped lead a team and develop dynamic curriculum and programming to spur transformative, in depth conversations while also growing relationships.
As a community servant, Meagan has served in multiple roles including as the Vice Chair of the City of Austin Ethics Review Commission a member of the Criminal and Civil Justice working group for the Mayor's Task Force on institutional Racism. She served on the planning committee for the Austin Trailblazer Awards honoring stellar black women in the Austin community. Meagan is a graduate of the 2015 class of Leadership Austin, the recipient of the 2016 Rising Star award for the Black Austin Democrats and the 2018 Outstanding New Director of the Year for the Texas Young Lawyers Association.
Meagan believes change comes from dismantling systems that do not serve us and invites you to join us as co-agitators.
She holds a B.S. in Communications and a law degree from The University of Texas at Austin.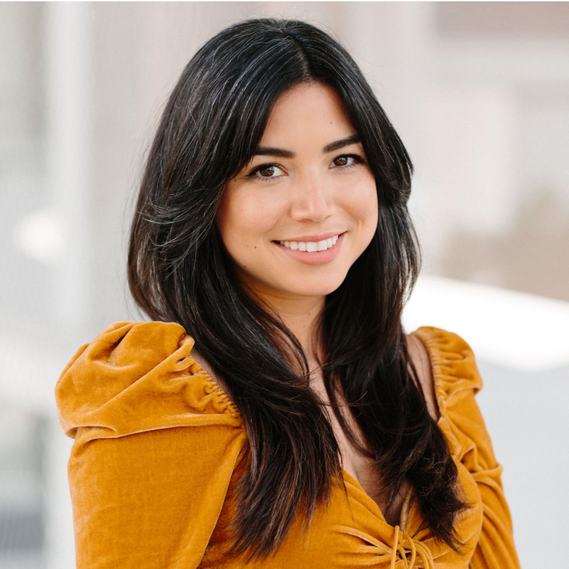 Anita Dresco
Program Coordinator + Operations
admin@rosarebellion.com | @_anita_d._
Anita has spent her career turning a passion for human connection and building community into fostering skills such as events coordinating, project management, and communications. She currently works as an events coordinator and strategist at lululemon as well as teaches flow yoga twice a week. As a first generation American and new mother to Ruby, 2020 inspired Anita to find a way to leverage her skills to elevate marginalized communities and amplify voices that she believes are essential for her daughter to grow up knowing. Reach out to Anita with your questions or ideas for Rosa Rebellion - she absolutely thrives off of connection and creative collaboration and would love to hear from you.
Imani Sebri White
Communications Coordinator
communications@rosarebellion.com
Imani joined Rosa Rebellion after working as a storytelling intern this past summer. She graduated in 2020 with a BA in International Relations from The University of Texas at Austin and since then has been searching for ways to build and strengthen community. In the past, Imani has served as a director of public relations for Students for Equity and Diversity at UT Austin working to educate students about social justice and human rights issues (where her love for creative activism was ignited). She saw firsthand the importance of community building and mentorship when she worked as a teacher with Austin-based nonprofit, GirlForward, which works to empower refugee girls through personal and academic development.
Currently based in New York City, working towards a masters degree in journalism, Imani hopes to sharpen her storytelling skills to highlight the voices of marginalized communities, especially women/non-binary people of color. Imani believes solidarity is fostered through communication and co-agitation and she wants to build with you -- feel free to reach out.